All You Need To Know About Maruti Suzuki Jimny: Price, Mileage, and Variants
The Maruti Suzuki Jimny isn't just another vehicle; it's a compelling blend of innovation and style, making it a truly exceptional SUV that has captivated the hearts of many. In this elaborate exploration, we'll embark on a journey through the many facets of the Maruti Suzuki Jimny, a compact marvel designed to cater to urbanites and adventure enthusiasts alike. From its price tag to its array of vibrant color options, fuel efficiency, versatile variants, and the plethora of features that redefine the driving experience, let's dive into the essence of the Maruti Suzuki Jimny.
Getting to Know the Maruti Suzuki Jimny
The Maruti Suzuki Jimny isn't just another car; it's an embodiment of versatility and rugged elegance. This compact SUV seamlessly bridges the gap between the urban commuter and the off-road adventurer. Its robust design, paired with urban sensibilities, makes it an SUV like no other.


Top Features that Make a Difference

The Maruti Suzuki Jimny isn't just about getting from point A to point B; it's about enjoying the journey. Its arsenal of features, encompassing safety enhancements and cutting-edge infotainment systems, ensures that your driving experience is not just safe but also delightfully entertaining. The Maruti Suzuki Jimny shines in the spotlight with a remarkable array of features that elevate the driving experience:
Advanced Safety Technology

Safety is a paramount concern, and the Jimny addresses this with advanced safety features such as airbags, stability control, and collision avoidance systems. It wraps you in a protective cocoon, allowing you to drive with unparalleled peace of mind.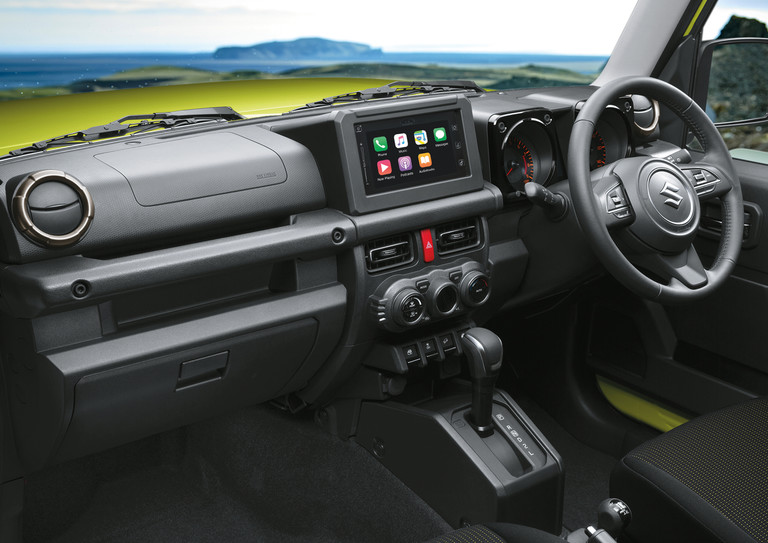 Staying connected and entertained is no longer a luxury; it's a necessity. The Suzuki Jimny's cutting-edge infotainment systems include touchscreen displays, smartphone connectivity, and an array of entertainment options. These features ensure that every journey is not just a commute but a delightful experience.
The Maruti Suzuki Jimny is more than just a city cruiser; it's an off-road legend. Its all-terrain capability means that you can venture off the beaten path and embrace thrilling adventures without breaking a sweat. The Jimny can conquer the harshest terrains, making it your ultimate companion for outdoor escapades.
Despite its compact exterior, the Jimny has a delightful surprise in store for you – a surprisingly spacious interior. There's ample room for passengers and cargo, making every journey comfortable and convenient.


When it comes to making a decision as substantial as purchasing a vehicle, the first question that typically arises is, "How much?" The Suzuki Jimny offers an answer that's music to the ears of budget-conscious buyers. It is available in multiple variants, each with its unique price point, ensuring accessibility to a wide range of customers.
Fuel Efficiency That Impresses

We've all been there – standing at the pump, watching the digits roll and wondering if there's a better way. The Maruti Suzuki Jimny acknowledges the modern driver's dilemma, offering an exceptionally fuel-efficient engine. It's a choice that not only pampers your wallet but also respects your commitment to a greener planet.
The Color Palette: Choose Your Style
Your choice of color isn't just a decision; it's an emotional connection. The Maruti Suzuki Jimny appreciates this sentiment and offers a vivid color palette. From bold and adventurous blues to the timeless elegance of black, the color options are a true reflection of your style.
FAQs
Q1: What is the starting price of the Maruti Jimny?
Ans: The Maruti Suzuki Jimny offers various trim levels with different starting prices, making it an accessible choice for a wide range of customers. The starting price varies based on your selected variant.


Q2: Is the Maruti Suzuki Jimny suitable for off-road adventures?
Ans: Absolutely! The Maruti Suzuki Jimny is purpose-built for off-road adventures, boasting all-terrain capability that allows you to conquer challenging terrains with ease.


Q3: How many color options are available for the Jimny?
Ans: Maruti Suzuki Jimny presents a diverse color palette, offering a spectrum of stylish and vibrant choices. The range includes everything from eye-catching blues to sophisticated grays.


Q4: Are there automatic transmission options available for the Jimny?
Ans: Yes, the Maruti Suzuki Jimny caters to various driving preferences by offering both manual and automatic transmission options.


Q5: What are the standout safety features of the Maruti Suzuki Jimny?
Ans: The Jimny is designed with safety in mind and features advanced safety technologies, including airbags, stability control, and collision avoidance systems, providing a secure and confident driving experience for all passengers. Your safety is a top priority when you drive the Maruti Suzuki Jimny